Welcome to:
Furrytails Vet Clinic
(Your Trusted, Compassionate & Affordable Vet Clinic)
Why We Are the Experts in Pet Care

We offer holistic care integrating both Eastern and Western medicine to ensure your furry companions receive bespoke treatment plans that meet all their needs.
It is our commitment to provide quality veterinary care throughout the life of your pet. Our services and facilities are designed to assist in routine preventive care for young, healthy pets as well as early detection and treatment of disease as your pet ages. We aim to offer comprehensive medical and surgical care to all companion animals including dogs, cats, and pocket pets.
Our healthcare team is committed to providing personal attention to the unique concerns of each individual pet owner.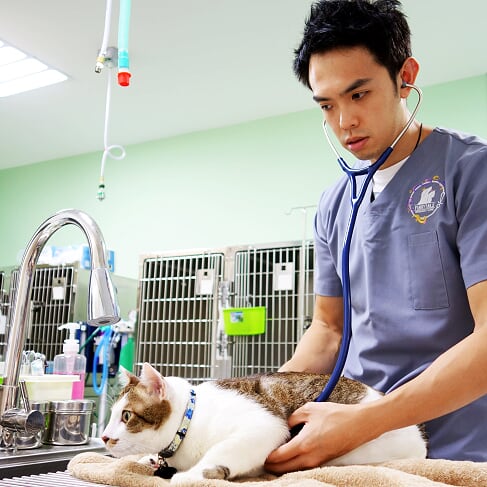 The Best Care for your Best Friend
Check ups are essential to pick up subtle or early signs of an illness so that it can be managed or treated promptly. Our clinic provides solutions to your furry friend problems such as:
Skin problem
Arthritis
Dental disease
Sterilisation
Kidney disease
Heart disease
Liver disease
Diseases that western medicine is unable to manage
Ear problem
Lump removal
Bladder stone removal
We aim to offer comprehensive medical and surgical care to all companion animals including dogs, cats.
With well equipped diagnostics & state-of-the-art treatment centre, we are able to offer a comprehensive range of treatments, screenings, vaccinations and veterinary services.
Pet owners can have a peace of mind knowing that their pets are in the hands of our experienced and dedicated team.
"Hi Dr Chan, just wanted to thank you again for the help rendered to Junior. He was so uncomfortable and in so much pain but all your acupuncture sessions and medication helped him greatly. Thanks also for your patience and kindness while my family and I dealt with this difficult situation. We are truly appreciative."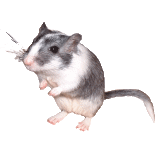 "Our cat, Popcorns, suffered a severe neck injury after falling off a high platform and was nearly put to sleep by another vet. Luckily we sought a second opinion from Dr Jimson Chan and through emergency care and acupuncture through the rehabilitation period, Popcorns has made a miraculous recovery. Other than being a bit wobbly, she is back to her happy and active self. Popcorns wouldn't be alive if not for Dr Chan."
"Dr Chan has been my family vet for the past 10-years and his dedication towards caring for the animals has not wavered over the years. He is one vet who truly cares for the well being of ur pets and is not out there to earn your money. I still recall how one by one, my dogs grew old and start to have cancer, kidney failure and etc. Day by day, they are fading yet as a Buddhist, my family can't put them down."

Dr Chan was there for them, making them all as comfortable as possible, tried all medications and treatments until we have exhausted all our options. He was there shedding tears for each of them when they passed away. He ever asked me this question ," Do u doubt me as ur vet? It's okay if u doubt me and want to change to another vet. I understand." Dr Chan, I can reply u this: Life and death is not controlled by you and I have not doubt you and your abilities a single bit. You have given my dogs the best there is and even loved them when they are not yours. I thank you with all my heart throughout these years. He's definitely one of the most sincere, compassionate vet I've encountered.
WHAT DOES FURRYTAILS MEAN?

It is a playful take on "fairy tales" highlighting our commitment to happily ever afters for you and your beloved companions you have entrusted in our care.
Our clinic provides the following services:
Acupuncture
Microchipping
Vaccinations
Heartworm Protection
Tick Fever Testing
Complete Blood Count
Biochemistry Blood Test
Thyroid Hormone Level Test
Pancreatic Lipase Test
Blood Pressure Measurement
Export Health Checks
X-ray services
Our clinic is well equipped with anaesthetic machines and monitoring devices to ensure your furry babies are stable under general anaesthesia. Our surgical services include:
Dog and Cat Sterilisation
Dental Scaling and Extractions
Bladder Stone Removal
Lumpectomies
Please give the clinic a call if your pet requires a particular procedure that is not listed here.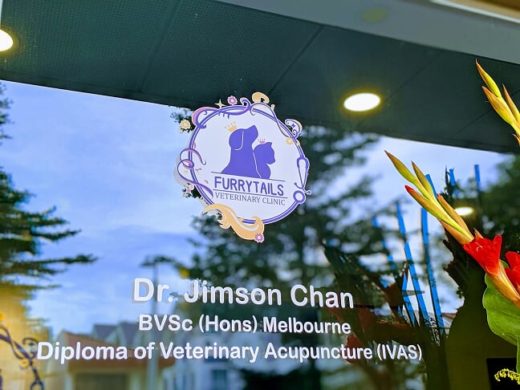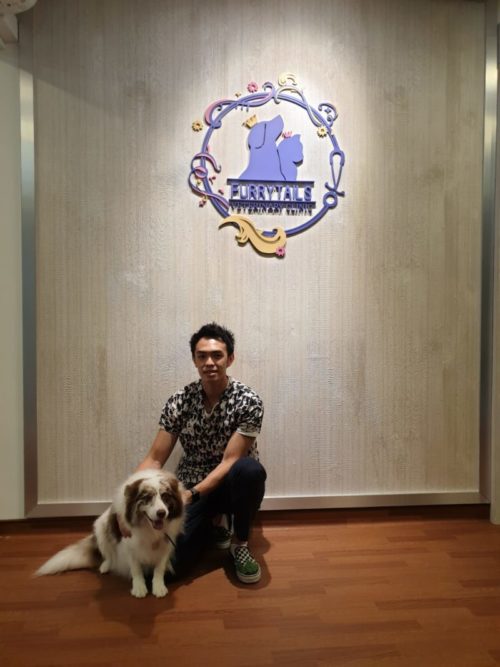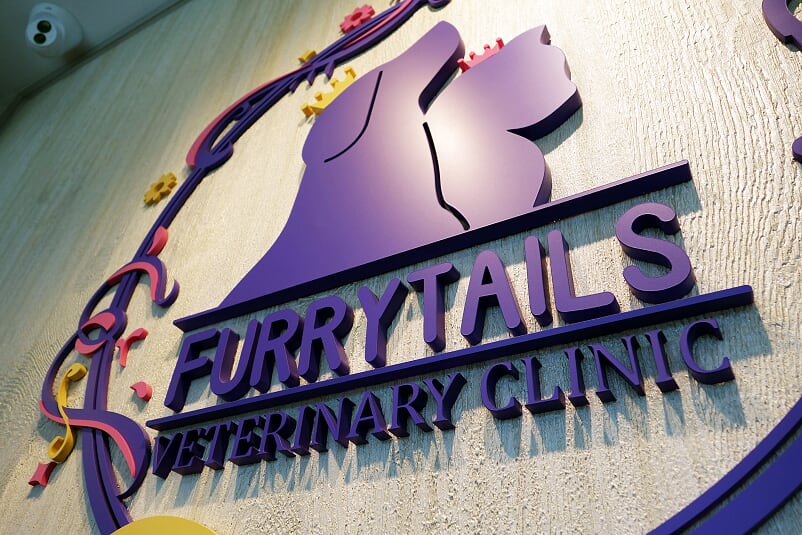 The Furrytail Team
Dr Jimson Chan
BVSc (Hons) Melbourne, Diploma of Veterinary Acupuncture (IVAS)
Veterinarian | Director
Dr Jimson Chan graduated from the University of Melbourne in 2010, and has been working in Singapore ever since. Ever since graduation, he has been treating dogs, cats, hamsters, guinea pigs and even terrapins. After seeing so many patients with skin problems in Singapore, he has developed a keen interest in dermatology and internal medicine, and he hopes that all his patients leave his clinic itch-free!
In 2015, Dr Chan graduated with the Diploma of Veterinary Acupuncture from the College of Integrative Veterinary Therapy (CIVT) and has since been integrating acupuncture and some traditonal chinese herbs (TCM) into his treatments. In 2018, he also completed his distance education course on Veterinary Emergency Medicine.
Outside work, Dr Chan is always with his Border Collie, Sora, which he adopted. They would go cafe hopping together or go on joy rides around Singapore. He also enjoys going to the gym and spending time with his family.r Collie.
Ivy Chan
Furry Godmother | Director
We can say she's a Jack of all Trades, Mother of Dragons, and most of all, an all-rounded manager for our furry clients. Ivy Chan is a homemaker who enjoys time with her family, and best friend Sora the Border Collie.